Blog
Defending the Electoral College since 2009
Save Our States wins three Telly Awards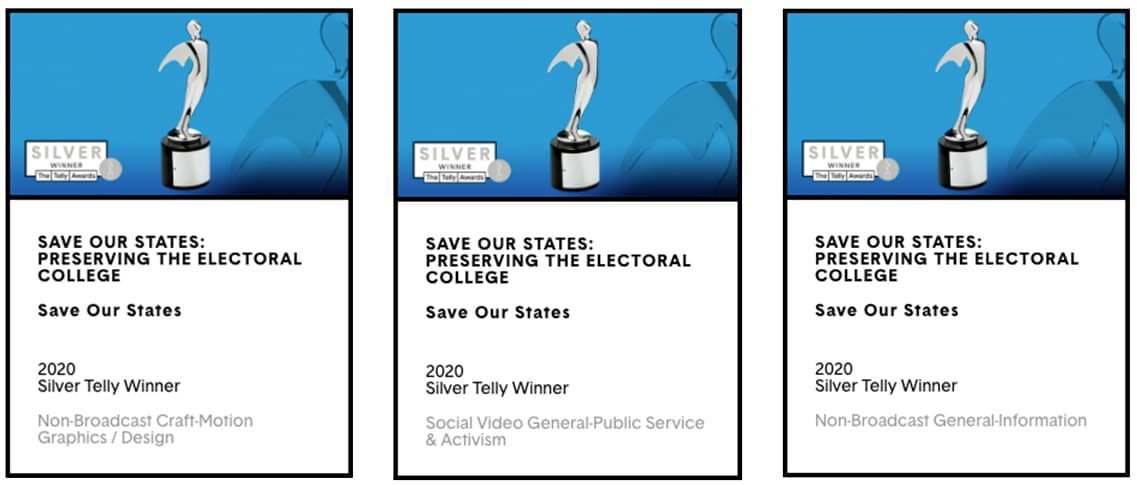 Save Our States is proud to announce that it has taken home three Silver Telly Awards for its video, "Join the Fight." The Telly Awards is the premier award honoring video and television across all screens.
"It's an honor to have won not one, but three Telly Awards," Save Our States' Executive Director Trent England said. "We're not in this work for the awards but are grateful a video supporting the Electoral College has received such positive recognition from leading experts in the video and film industry. Special thanks to the team at Iron Light for making our vision for this video a reality."

Established in 1979, The Telly Awards receives more than 12,000 entries from all 50 states and five continents. Entrants are judged by The Telly Awards Judging Council—an industry body of over 200 leading experts including advertising agencies, production companies, and major television networks, reflective of the multi-screen industry The Telly Awards celebrates.
"Join the Fight" was released at the 2020 Conservative Political Action Conference (CPAC), where Save Our States had a large presence. The 60-second video won silver in the categories of:
Social Video General-Public Service & Activism,
Non-Broadcast Craft-Motion Graphics/Design, and
Non-Broadcast General-Information
Other silver winners in these categories include the CBS Interactive, Boy Scouts of America, Caterpillar, Inc., Campbell Soup Company, and U.S. Immigration Customs and Enforcement.
Watch the video:
Time is running out
There is a real, immediate threat to the constitutional way we elect our president. National Popular Vote is 76% of the way to implementing their dangerous plan.